Angelfields Magnolia
Ph Gr & AM CH Lenches Gallivant x Ph Gr CH Angelfields Genie
Inbreeding Coefficient of 8.11% based on 431 ancestors
Molly is linebred to:
Eng Ch Kupros Master Mariner (4-6,7,6,6)
Eng Ch Ballyduff Marketeer (6,6,7,6-7)
Sandylands Charlston (6,7,7-6)
Eng Ch Sandylands My Rainbeau (6,6-7)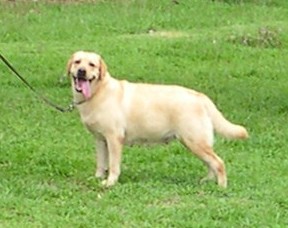 Molly at 26 months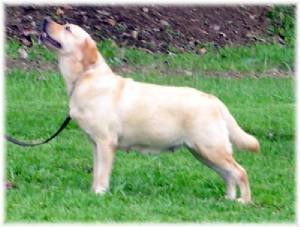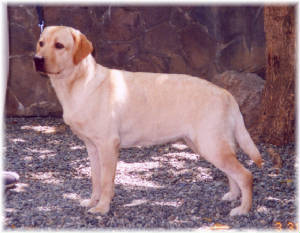 angelfields magnolia starts to bloom @ 1 year
Angelfields Magnolia, molly as we call her is a gentle and laid back girl. Always observant & calculated in her surroundings. She is a scopy bitch of medium size with good balance & proportions. A strong topline with lovely head proportions & correct ear placement. She takes after her mother who has very good spring of rib. Good front & excellent rear angulation. She stands a bit wide on the front. Her rear stance is solid on the ground. A strong drive with a beautiful coat that softens her angles.
Molly has not been actively campaigned but we have no doubt that she has the potential to finish & we look forward to campaigning her after she whelps.
Pedigree of: Angelfields magnolia

Sex
F
Reg No.
Date of Birth
Breed
Labrador Retriever
Owner
Breeder
Colour & Markings
Call Name
Comments
PARENTS
GRANDPARENTS
GREAT GRANDPARENTS
GREAT GREAT GRANDPARENTS
AM CH Lenches Gallivant
ENG.CH. Sandylands Gadabout
ENG.CH. SANDYLANDS MY GUY
ENG.CH. Kupros Master Mariner
Sandylands Bramble
ENG.CH. Sandylands Bliss
ENG.CH. Trenow Brigadier
Sandylands Rae
LENCHES TIPTOP
ENG.CH. Tibblestone The Chorister
NZ CH. Carpenny Chateau Cranspire
Sandylands Forever Amber at Tibblestone
Lenches Personality
Poolstead Pearl Barley
Lenches Peppermint
Ph Gr CH Angelfields Genie
PHIL GR CH VEYATIE DRIVING ALONG (UK)
CRICKLECREEK CRUISING ALONG
ROCHEBY NAVY BLUE
CRICKLECREEK CHIFF CHAFF
VEYATIE MELODY MAKER
CRICKLECREEK CUDDLY DUDDLEY
VEYATIE HIGH SOCIETY
Angelfields Bonnie
AM CH BORADORS THE GOBLIN
AM CH ELYSIUM'S CITIZEN KANE
WINTERSETS LEGEND WOOD OP III
AM CH BORADORS VANITY FAIR
AM CH AUTUMN"S THUNDER VISIONS JH
FAIR PLAY AT TREWINNARD (UK)