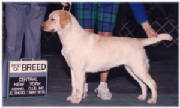 Am Ch Boradors Vanity Fair as a yearling
Line H is the result of mating our foundation bitch Am Ch Boradors Vanity Fair to Grand Sire of Merit Ph Gr Ch Veyatie Driving Along. From this H litter, we kept a female named Hazel & a male Hugo. A female named Honey went on to become the foundation bitch at Kennel Madison Quest. Another female named Heather is with Kennel Smackwater. We co-own a female named Holly with nico aguirre.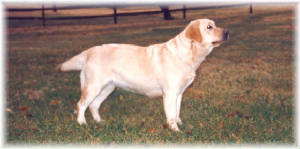 Vanity approaching 2 years old
Vanity was mated & whelped three times during her lifetime. Her first breeding was to Am Ch Boradors the Goblin. That was our B litter and we kept a female named Angelfields Bonnie. This is what is known in our kennel as Line B. You can learn more about Line B in a seperate page here on our site.
Vanity was bred for the second time to a multi best in show winner - a dog bred by Guy Spagnolo of Kennel Driftway - Driftway Truffle. Unfortunately we did not keep any from this "F" litter. We are trying to bring back this line through a boy who's mother is - Ph Ch Angelfields Felicia. She was the most outstanding producer from this litter and we have used Ph Gr Ch Skyglory Magic on two of our females. We are crossing our fingers and hope we can bring this Line back integrated into our B line.
Mother & Daughter (up & below)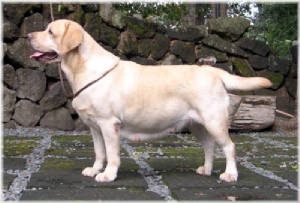 Angelfields Hazel (Line H)
Siblings Hazel & Hugo - Line H
ANGELFIELDS "H" LITTER progeny;
wins in the 2004 Nationals under judge Jim Nolan:
Ph Gr Ch Angelfields Honey's son won RUBOB: Ph Gr Ch Madisons Quest Angus
Angelfields Hazels daughter won BOS: Ph Gr Ch Angelfields Love Bug
Ph Ch Angelfields Heathers daughter won 2nd place AOM: Ph Ch Sunshadow Little Foot
wins in the 2004 pre nationals under judge Elise Nolan
Angelfields Holly son won Winners Dog: Angelfields Ooze
Angelfields Holly son won Runners Up Winners Dog: Angelfields Orka